Latest News and Actions

On Land Day, March 30th 2022,
Vermonters for Justice in Palestine
hosted a special presentation by Alison Weir:
"The world's longest occupation: Palestine"
For those who were unable to join the Zoom meeting, a recording can be viewed
here
Land Day commemorates the events of March 30, 1976, when a general strike took place in response to the Israeli government's announcement of a plan to expropriate lands in the Galilee for official use. Protests took place throughout the Arab settlements in Israel, Gaza Strip, West Bank, and refugee camps for Palestinians in Lebanon. The riots were suppressed by the Israeli Defense Forces and Police. Six Arab citizens were killed, and about 100 were injured.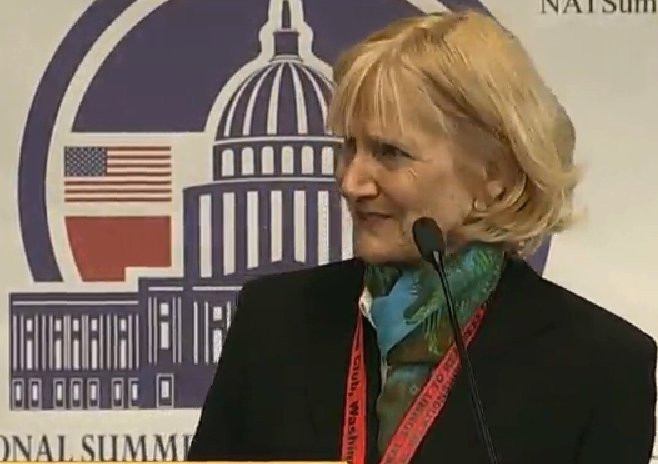 Alison Weir guided us through the history of the "Longest Occupation". Palestine has been occupied since Roman days at least, and Palestinian people have always resisted. Alison saw that resistance first-hand by traveling alone throughout the West Bank and Gaza as a freelance journalist at the height of the Second Intifada. Since then she has committed her life and energies to showing Americans how we have been complicit in the invasion, occupation, and colonial settlement of Palestinian land, and more importantly the oppression, yes, and killing of Palestinian people.
In the recording, there are three videos (from Alison Weir's Youtube channel). The recording was not able to capture the videos properly (sound OK, but video doesn't 'flow' properly)
So those three videos can be viewed at these links:

Video 1
Video 2
Video 3 (You have to confirm your age for this one)
Materials from If Americans Knew
The YouTube Channel
Vimeo Channel
YouTube: How Pro-Israel Neocons Pushed Iraq War (Alison Weir)
Youtube: Pro-Israel officials in the U.S. government pushed war against Iraq – Dahlia Wasfi
Book: The Road to Iraq: The Making of a Neoconservative War
Book: The Transparent Cabal: The Neoconservative Agenda, War in the Middle East, and the National Interest of Israel
Article: About US interests, and the Israel Lobby Organizations.
Article: Israel loyalists embedded in U.S. government pushed U.S. into Iraq War
Article: Israel escalates efforts to get US to attack Iran, as it did Iraq
Article: Pentagon officer described how Israelists manufactured anti-Iraq disinfo that led to war
Open Letter to Burlington Mayor, City Councilors, and Burlington Rabbis

In September 2021, VTJP and seventeen other organizational sponsors brought a Resolution in solidarity with the Palestinian people to the Burlington City Council – and they held a hearing on September 13th 2021. Opponents of the the Resolution mounted a fierce opposition fueled by an article by four Burlington rabbis in the Vermont Digger. The Rabbis' position was echoed in some respects by Mayor Miro Weinberger. This
letter
addressed to Mayor Weinberger, the twelve City Councilors and the Rabbis addresses the diversionary issues raised by the opponents of the Resolution.
The resolution was withdrawn by the Councilors, apparently the result of public and private emotional response and harassment by supporters of Israeli policies, and diversionary accusations of divisiveness by Mayor Weinberger, and rabbis from Vermont and elsewhere. AT the hearing opponents attacked the resolution using every justification possible to oppose BDS, including arguments evoking the horror of the Holocaust, antisemitism, and blanket condemnation of Palestinian missiles launched by Hamas, largely in self-defense. It is deeply disturbing to see the history of antisemitism in Europe used by the rabbis as justification for their opposition to BDS, and in support of Jews inflicting violence and terror on Palestinians.
44th UN-declared "International Day of Solidarity with the Palestinian People" November 29th 2021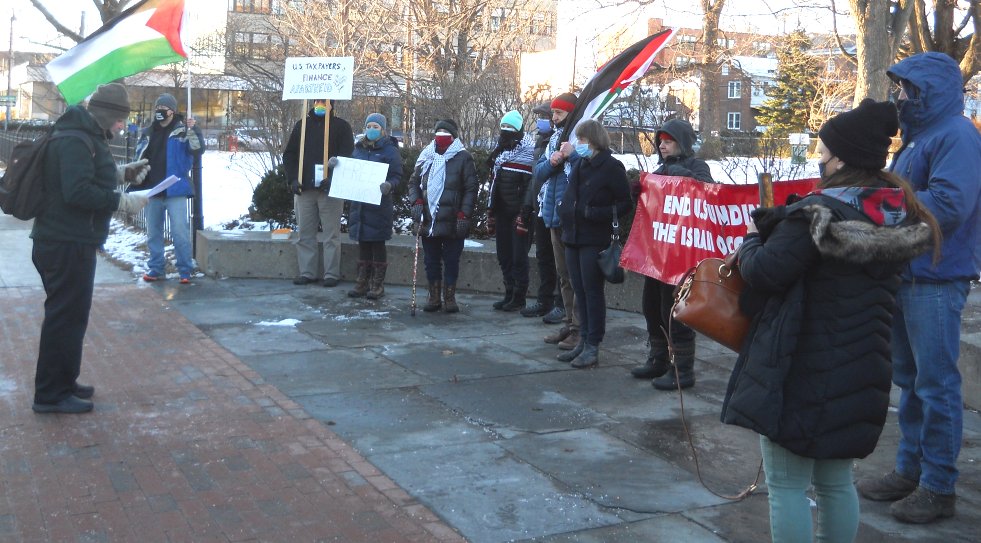 Reading a
letter
addressed to Vermont's Senators and Congressman to recognize the International Day of Solidarity with the Palestinian People and to demand an end to US military funding for dispossession, oppression and killing of Palestinian people. The letter provides several ways that the money could be used instead to help Vermonters by funding 76 elementary school teachers, or 4,085 people receiving food assistance, or 1,057 students receiving a Pell grant, or 2,593 children receiving healthcare, or 83 clean energy jobs. (From
uscpr.org/militaryfunding
).Read the letter to VT Delegation
here.
Rural VT Statement of Solidarity with Palestine & Support for Actions by Ben & Jerry's Inc. October 2021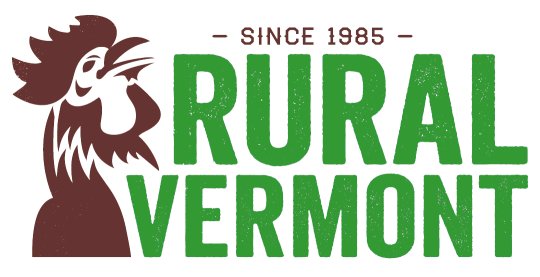 "Rural Vermont stands in solidarity with the Palestinian people and condemns the Israeli State's systemic human rights violations, discrimination, and the illegal occupation and blockade of Palestine which has now affected generations of Palestinians and the lands of Palestine."
Read the full statement
here.
Burlington City Council's Resolution in Solidarity with Palestine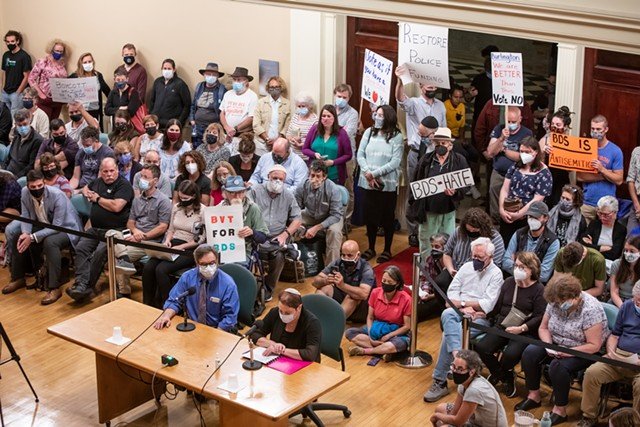 Photo: Luke Awtry for Seven Days
The Burlington City Council held a hearing on September 13th 2021 about the Resolution in solidarity with the Palestinian people.
Vermonters for Justice in Palestine (VTJP) and seventeen other organizational sponsors brought the Resolution proposal to Burlington City Council and it was approved by the Racial Equity Committee.
Read more here
July 19th 2021 – Ben & Jerry's announce that they will end sales of their ice cream in illegal settlements, and and terminate the contract with their license holder when it expires in 2022!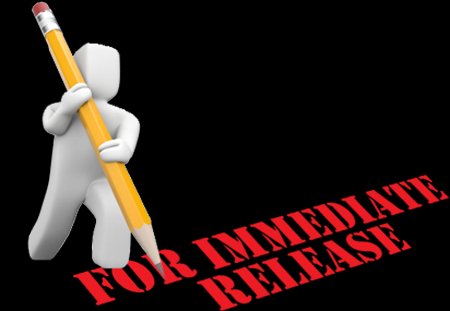 VTJP statement about the July 19th 2021 announcement from Ben & Jerry's here
Combined Statement (August 12th, 2021) "Where We Stand on Ben & Jerry's" by Adalah Justice Project, US Campaign for Palestinian Rights, Movement for Black Lives (M4BL), Vermonters for Justice in Palestine, Palestine Legal, American Friends Service Committee, BDS Movement, Jewish Voice for Peace.
---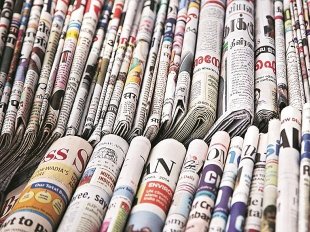 Official Statements and Media Coverage Links
(Work in Progress)
here
---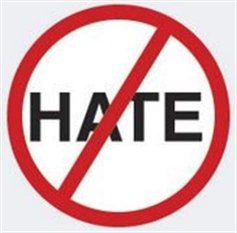 Our Statement
here
about vile charges of anti-Semitism and death threats against Anuradha Mittal, chair of Ben & Jerry's Independent Board of Directors.
And can't they do better than this?
Extremist Zionists make wild accusations of anti-Semitism and terrorism, instead of confronting the real issues: Samples:
here and here and here
---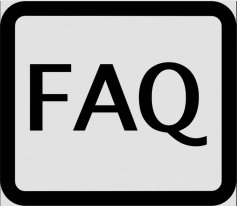 Frequently asked Questions
here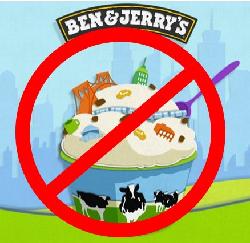 Ben & Jerry's has been under Renewed Pressure
to Stop Doing Business in Palestine/Israel
---
An Instagram posting by Decolonize Burlington promoting the boycott of Ben & Jerry's received thousands of 'likes', and prompted this coverage in the Burlington Free Press.
A new Press Release by VTJP about Ben & Jerry's complicity in Israeli Apartheid sent to local and national news outlets.
In response to a new Petition drive about Ben & Jerry's business in Palestine/Israel 614 people have sent emails to CEO Matthew McCarthy, and Global Social Mission Officer Dave Rapaport, and 204 people signed at the Rally/March in Burlington, May 15th 2021. See the letter to Ben & Jerry's here.
Rally and March for Palestine Nakba Day May 15th, 2021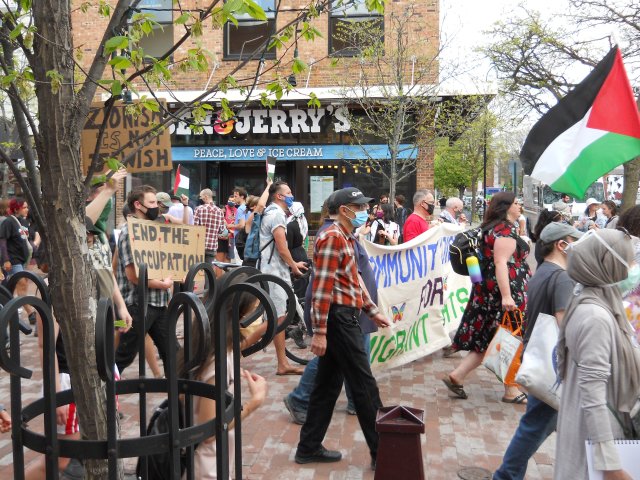 As the March passed Ben & Jerry's, people stopped and chanted "Shame on You!" because of their ice cream business in Palestine/Israel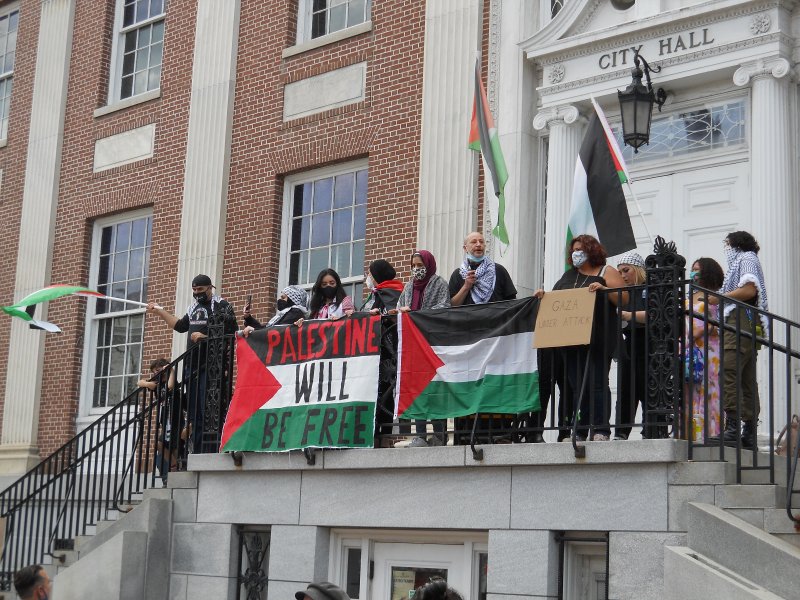 Speakers at Burlington's City Hall – representing the participating organizations.
---
Hundreds of people in Vermont joined the international outcry against the violence in Palestine and Israel, routed in 73 years of oppression, occupation and Apartheid.
The rally/march in Burlington VT started at Battery Park and proceeded to City Hall.
It was an amazing experience – a huge coalition of mostly young people many of whom have experienced discrimination and being marginalized (Women, non-white, immigrants and others).
Speakers included:
Wafic Faour – VTJP; Hannah Rose – Decolonize Burlington; Asma Elhuni – RAD; Mark Hage – VTJP; Sara Brooks – VTJP and PSL; Rajni; Amanda Garces – Education Justice Coalition of Vermont; Zanevia Wilcox – The Battery Park movement; Rick (Spontaneous speaker); Mohsen Mahdawi; Dima; Marita Canedo (Migrant justice); Ashley Smith – DSA
Press Release Prior to the event
"Burlington rallies for Palestine" A short report by local media
Co-Sponsors:
Vermonters for Justice in Palestine; Decolonize Burlington; Jewish Voice for Peace, Vermont-New Hampshire; Community Voices for Immigrant Rights; Red Banner Anti-Imperialist Collective; Party for Socialism and Liberation (PSL); Party of Communists USA; Rise Upper Valley; Education Justice Coalition of Vermont; Vermont Workers' Center; The Battery Park Movement; Will Miller Social Justice Lecture Series; The Peoples Kitchen; The Center for Grassroots Organizing; VT National Lawyers Guild
US Police train with the Israeli occupation forces
Israeli knee on Palestinian neck
Israeli knee on Palestinian neck
Israeli knee on Palestinian neck Video here
Israeli knee on Palestinian neck
Does this look familiar?
As explained
here
and
here,
about 100 Minnesota law enforcement officers attended a counter-terrorism training conference in Minneapolis put on by the Israeli consulate in Chicago, the FBI and Minnetonka police in 2012.
There they learned the violent techniques that Israeli forces have been seen to use as they terrorize people in the occupied Palestinian territories under the guise of security operations.
A rebuke to the Israeli NE Consulate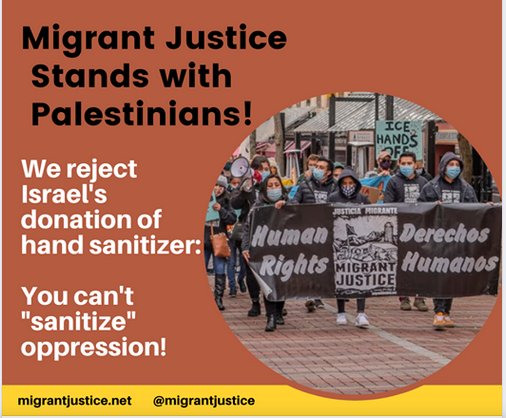 Migrant Justice responded Dec 7, 2020 to Israel in Boston when they tried to create a PR event by offering Migrant Justice free hand sanitizers to "help communities most impacted by the pandemic." Migrant Justice wrote: "If the Israeli government were sincere in that goal it would begin in Gaza, where cases had doubled in the last two weeks while the population suffers from blockade-imposed shortages of ventilators, PPE, and medicine."
See Migrant Justice email to the Israeli Consulate:
Watch the documentary film "The Occupation of the American Mind"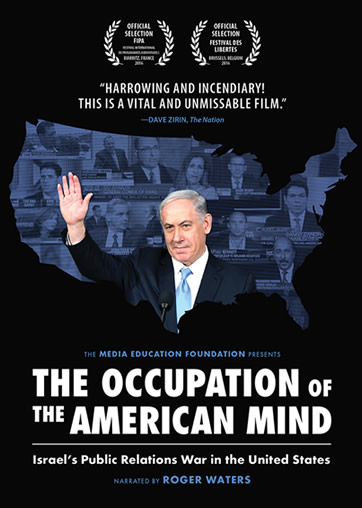 The documentary film "The Occupation of the American Mind" can now be watched for free, via the link here. The link offers shorter, abridged versions of the film as alternatives, but the full 84-minute film is considered a MUST VIEW.
The film is narrated by Roger Waters and includes interviews with Phyllis Bennis, Noam Chomsky, Amira Hass, Rashid Khalidi, Youssef Munayyer, Henry Siegman and Stephen Walt.
More information: https://www.occupationmovie.org/
Recordings of Talks/Discussions organized by VTJP and JVP (VT-NH)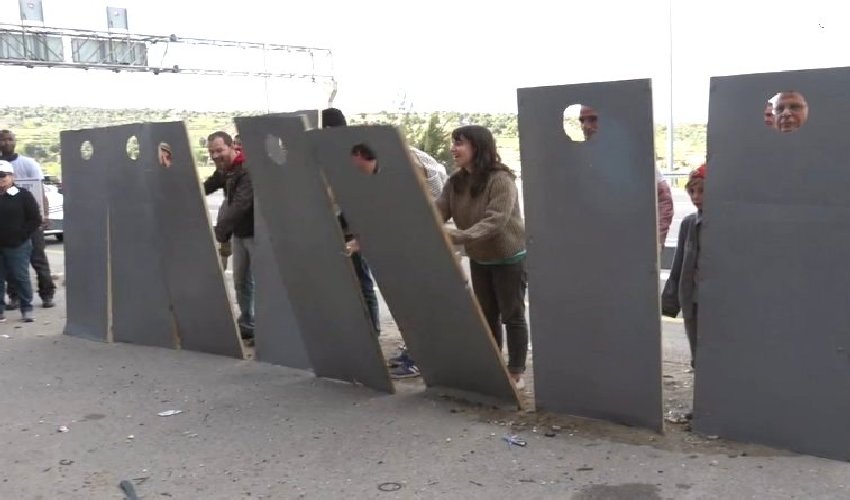 Through the Wall
View the recording of the online discussion held on Sunday, March 21,2021 with film director Anne Macksoud, Rabbi Dov Taylor, who is featured in the film and Moshen Mehdawi, a young Palestinian who grew up in the West Bank, now living in Vermont.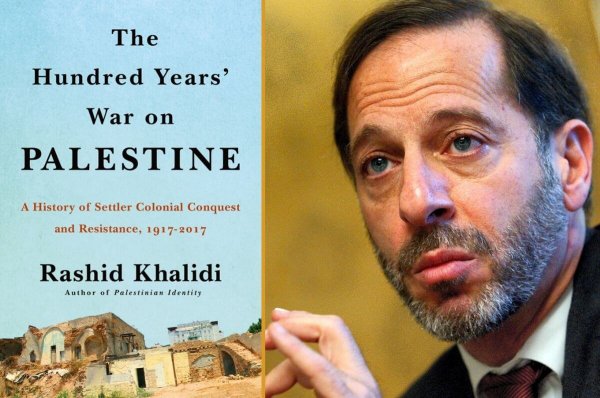 Talk by Rashid Khalidi and and subsequent discussion.
Professor Khalidi discussed the history of British and American initiatives to transform Palestine into a Jewish State and his most recent book, The Hundred Years' War on Palestine: A History of Settler Colonialism and Resistance, 1917- 2017 (2020).Rashid Khalidi is the Edward Said Professor of Modern Arab Studies at Columbia University, the author of many books, and an esteemed scholar and activist. He was President of the Middle East Studies Association, and an advisor to the Palestinian delegation to the Madrid and Washington Arab-Israeli peace negotiations from October 1991 until June 1993.
What's Happening? (Full Reports here)
What we do
Action and Events
Sponsored Art Projects

Najawa Street Art

Think of Others



Art Hop 2017
Get Involved & Stay Informed