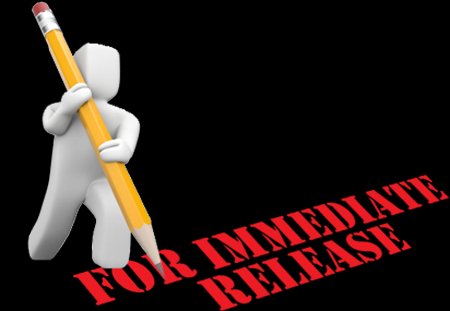 Statement about the July 19th 2021 announcement from Ben & Jerry's about their business in Palestine/Israel
here
---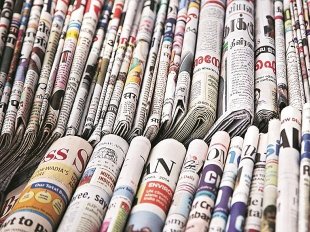 Media Coverage Links (Work in Progress)
here
Settlers arrive and declare that 'God gave us this Country!'
Then they proceed to take over the land and kill and expel the inhabitants though a combination of military force and flawed and broken treaties.
America in the 19th Century, or Palestine in the 20th and 21st Century? Both, actually.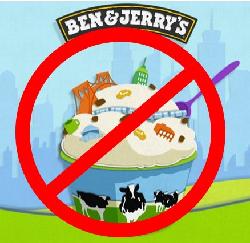 Ben & Jerry's Under Renewed Pressure
to Stop Doing Business in Palestine/Israel
An Instagram posting by Decolonize Burlington promoting the boycott of Ben & Jerry's received thousands of 'likes', and prompted this coverage in the Burlington Free Press.
A new Press Release by VTJP about Ben & Jerry's complicity in Israeli Apartheid sent to local and national news outlets.
In response to a new Petition drive about Ben & Jerry's business in Palestine/Israel 614 people have sent emails to CEO Matthew McCarthy, and Global Social Mission Officer Dave Rapaport, and 204 people signed at the Rally/March in Burlington, May 15th 2021. See the letter to Ben & Jerry's here.
Rally and March for Palestine
Nakba Day May 15th, 2021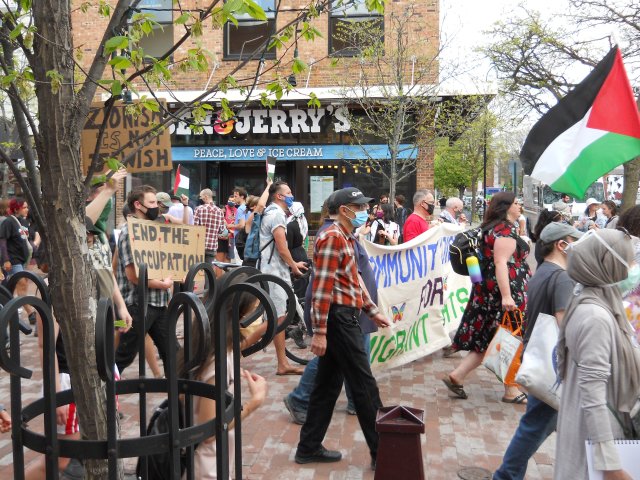 As the March passed Ben & Jerry's, people stopped and chanted "Shame on You!" because of their ice cream business in Palestine/Israel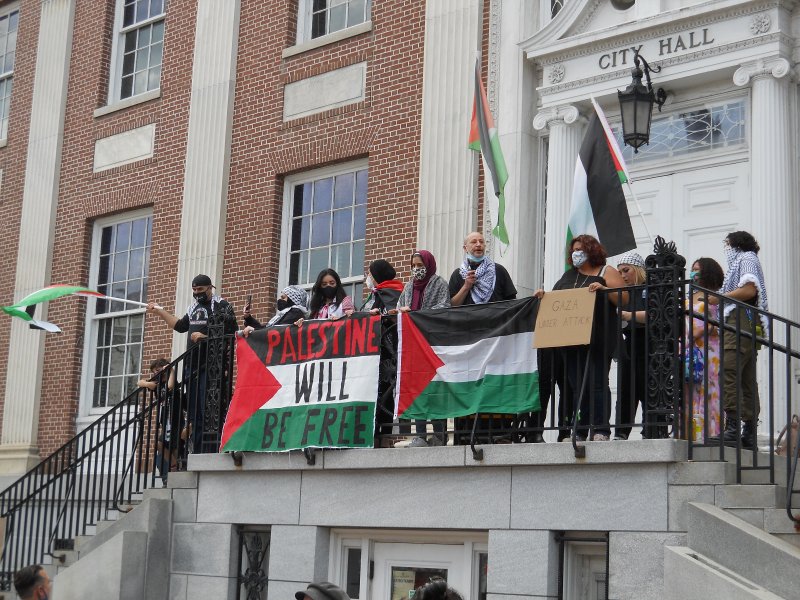 Speakers at Burlington's City Hall – representing the participating organizations.
Hundreds of people in Vermont join the international outcry against the violence in Palestine and Israel, routed in 73 years of oppression, occupation and Apartheid.
The rally/march in Burlington VT started at Battery Park and proceeded to City Hall.
It was an amazing experience – a huge coalition of mostly young people many of whom have experienced discrimination and being marginalized (Women, non-white, immigrants and others).
Speakers included:
Wafic Faour – VTJP; Hannah Rose – Decolonize Burlington; Asma Elhuni – RAD; Mark Hage – VTJP; Sara Brooks – VTJP and PSL; Rajni; Amanda Garces – Education Justice Coalition of Vermont; Zanevia Wilcox – The Battery Park movement; Rick (Spontaneous speaker); Mohsen Mahdawi; Dima; Marita Canedo (Migrant justice); Ashley Smith – DSA
Press Release Prior to the event
"Burlington rallies for Palestine" A short report by local media
Co-Sponsors:
Vermonters for Justice in Palestine; Decolonize Burlington; Jewish Voice for Peace, Vermont-New Hampshire; Community Voices for Immigrant Rights; Red Banner Anti-Imperialist Collective; Party for Socialism and Liberation (PSL); Party of Communists USA; Rise Upper Valley; Education Justice Coalition of Vermont; Vermont Workers' Center; The Battery Park Movement; Will Miller Social Justice Lecture Series; The Peoples Kitchen; The Center for Grassroots Organizing; VT National Lawyers Guild
US Police train with the Israeli occupation forces
Israeli knee on Palestinian neck
Israeli knee on Palestinian neck
Israeli knee on Palestinian neck
Does this look familiar?
As explained
here
and
here,
about 100 Minnesota law enforcement officers attended a counter-terrorism training conference in Minneapolis put on by the Israeli consulate in Chicago, the FBI and Minnetonka police in 2012.
There they learned the violent techniques that Israeli forces have been seen to use as they terrorize people in the occupied Palestinian territories under the guise of security operations.
New Developments: Palestine Legal has taken on this case,
and Jewish Voice for Peace has started a petition to Middlebury Administration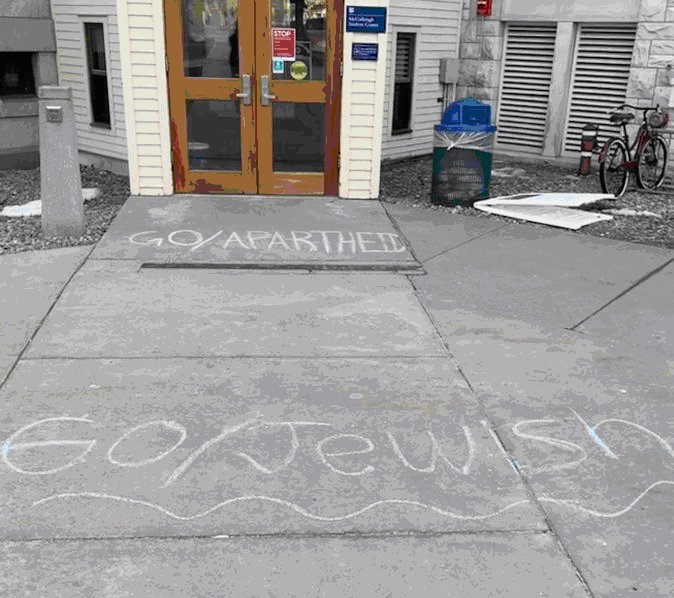 Photo: Hattie LeFavour The launch of a website in March 2021 by Middlebury College Students for Justice in Palestine (SJP) was accompanied by students marking pavements with chalked 'go-links' (online shortcuts accessible to those on campus WiFi) linking to campus resources, including the tag go/apartheid linking to the SJP website. The SJP group focuses on its commitment "to educating ourselves and the Middlebury College community about Israeli apartheid" and strongly defends the use of the word Apartheid to describe the situation in Palestine/Israel.
According to an article in The Middlebury Campus (a student-run weekly newspaper of Middlebury College) by Abigail Chang, entitled "Tensions mount on campus as go-links turn the spotlight on the Israeli-Palestinian conflict" subsequent links named go/palestine, go/palestinian and go/sjp were established, and they brought users to an Israel Ministry of Foreign Affairs webpage titled "Palestinian terror and incitement."
Three Opinion Pieces were published the same day (March 18th, 2021): by Matt Martignoni, entitled 'Solidarity is the political version of love'; by Max Shulman-Litwin entitled "Why Students for Justice in Palestine (SJP) worries me"
And by Laurie Essig and four other faculty members entitled "Jewish faculty support Students for Justice in Palestine."
Recordings of Talks/Discussions organized by VTJP and JVP (VT-NH)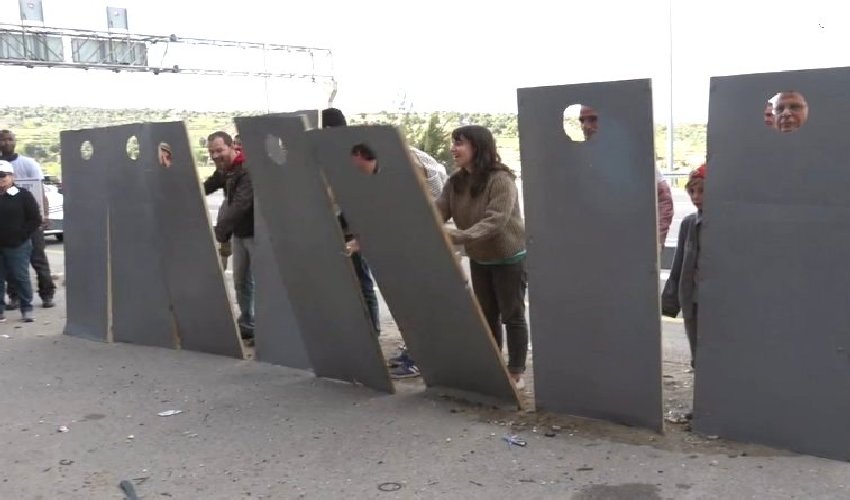 Through the Wall
View the recording of the online discussion held on Sunday, March 21,2021 with film director Anne Macksoud, Rabbi Dov Taylor, who is featured in the film and Moshen Mehdawi, a young Palestinian who grew up in the West Bank, now living in Vermont.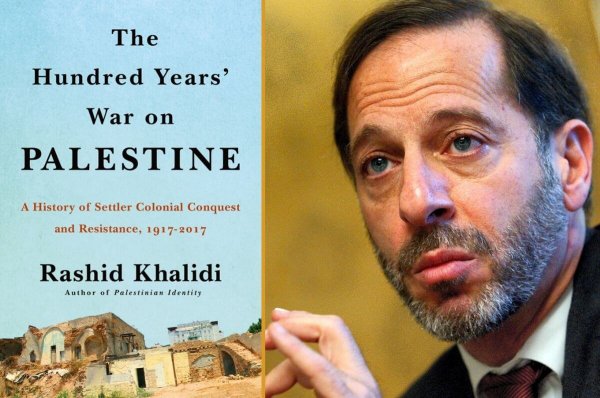 Talk by Rashid Khalidi and and subsequent discussion.
Professor Khalidi discussed the history of British and American initiatives to transform Palestine into a Jewish State and his most recent book, The Hundred Years' War on Palestine: A History of Settler Colonialism and Resistance, 1917- 2017 (2020).
Rashid Khalidi is the Edward Said Professor of Modern Arab Studies at Columbia University, the author of many books, and an esteemed scholar and activist. He was President of the Middle East Studies Association, and an advisor to the Palestinian delegation to the Madrid and Washington Arab-Israeli peace negotiations from October 1991 until June 1993.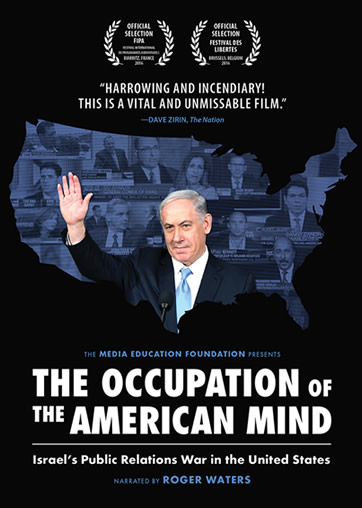 Also,
the documentary film "The Occupation of the American Mind" can now be watched for free
, via the link
here
. The link offers shorter, abridged versions of the film as alternatives, but the full 84-minute film is considered a
MUST VIEW.
The film is narrated by Roger Waters and includes interviews with Phyllis Bennis, Noam Chomsky, Amira Hass, Rashid Khalidi, Youssef Munayyer, Henry Siegman and Stephen Walt.
More information:
https://www.occupationmovie.org/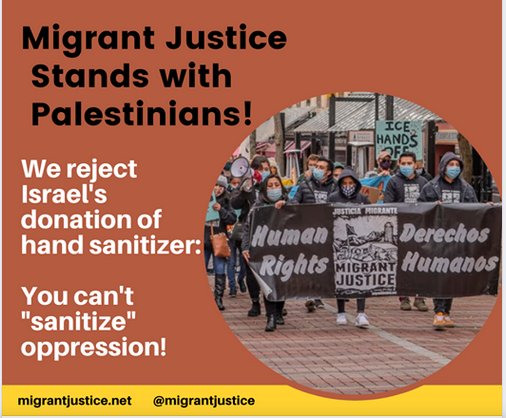 In a rebuke to the Israeli NE Consulate
Migrant Justice
responded Dec 7, 2020 to
Israel in Boston
when they tried to create a PR event by offering Migrant Justice free hand sanitizers to "help communities most impacted by the pandemic." Migrant Justice wrote: "If the Israeli government were sincere in that goal it would begin in Gaza, where cases had doubled in the last two weeks while the population suffers from blockade-imposed shortages of ventilators, PPE, and medicine."
See
Migrant Justice email to the Israeli Consulate: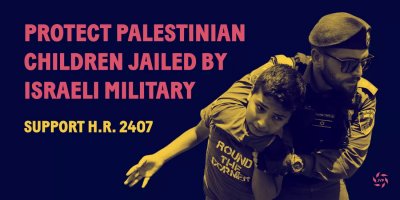 No Way to Treat a Child (With a Vermont Connection)
What's Happening? (Full Reports here)