Articles about Palestine from the Peace & Justice Center
in Burlington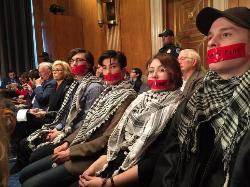 Anti-Semitism and Boycott, Divestment and Sanctions (BDS)
October 29, 2018
Many journalists, politicians and Zionists today accuse people who support BDS of anti-Semitism. In the U.S. to date, laws have been passed in 25 state…
– by Kathy Shapiro, Vermonters for Justice in Palestine
Photo from US Campaign for Palestinian Rights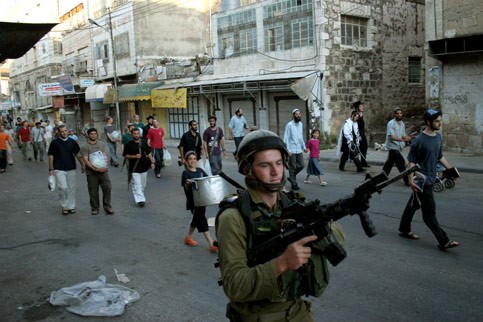 A Tale of Two Cities: Jewish Settlers & Palestinians in Occupied Hebron
October 12, 2018
"Whatever a soldier believes when they begin their military service, there is no way to behave ethically in the occupied territories. It's a system in which Palestinians are always treated as inferior, always viewed as the enemy, whoever they are…."

– by Mark Hage, Vermonters for Justice in Palestine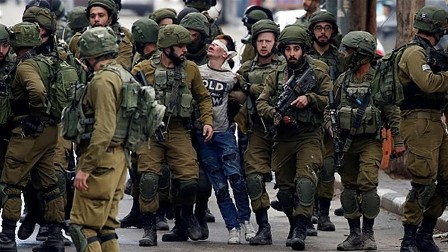 Absolute Submission: Palestinian Children in Israeli Military Detention
September 28, 2018
Absolute submission to Israeli authority is required of every Palestinian under military occupation. When past lessons in submission fail to induce acceptable levels of obedience, fear and collaboration, then these lessons must be relearned to please those in power. Israel's…

– by Mark Hage, Vermonters for Justice in Palestine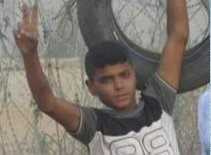 The Last 48 Seconds of a Child's Defiance in Gaza
September 18, 2018
YouTube issues a warning: "This video may be inappropriate for some viewers." Assurances must then be given by said viewers that they "understand and wish to proceed" before being permitted to watch a Palestinian child be gunned down in an…

– By Mark Hage, Vermonters for Justice in Palestine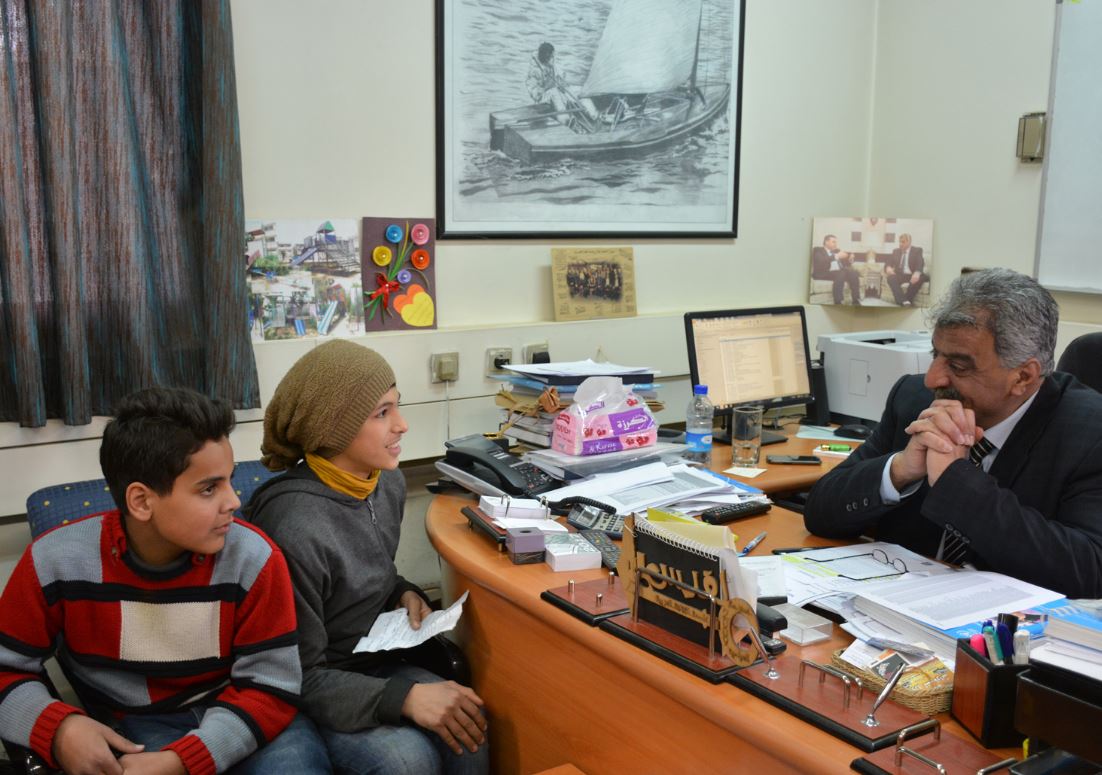 Defunding UNRWA – Trump's War on Work, Dignity, and Palestinian Refugees
September 4, 2018
On September 3, as we celebrated Labor Day in Vermont, the jobs of more than 30,000 Palestinians who work for the United Nations Relief and Works Agency (UNRWA) were put at risk by the Trump administration's sudden cancellation of U.S….

– by Kathy Shapiro, Vermonters for Justice in Palestine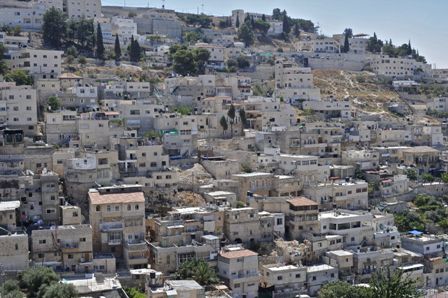 Story of A. S. #ThisIsOccupation
July 10, 2018
For six months in 2011 I lived in East Jerusalem, in the neighborhood of Wadi Joz, just adjacent to the Old City, and to Silwan where this boy's story took place. Silwan has been a Palestinian village for at least…

– by Kathy Shapiro, Vermonters for Justice in Palestine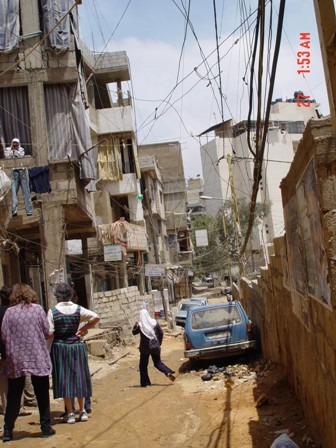 A Palestinian Speaks – Migrant, Refugee and Person of Color in Vermont
June 22, 2018
I was born in a Palestinian refugee camp in Lebanon 12 years after my parents were forced to flee the Upper Galilee in historical Palestine. They lost their home, land, livelihood, and my mother lost her father to a bullet…

– by Wafic Faour, Vermonters for Justice in Palestine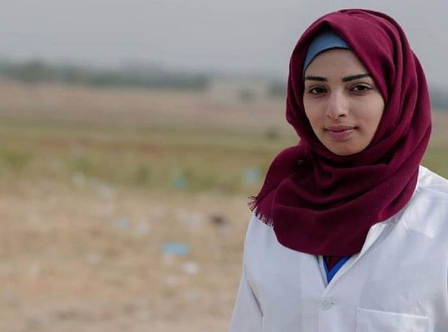 Palestinian Diary: The Short Life of Razan Al-Najjar, Paramedic – Human Shield or Human Being?
June 11, 2018
Note: This piece is being published as part of a regular series to bring under-reported Palestinian voices to Vermonters. Razan Ashraf Abdul Qadir al-Najjar, 21 was killed on June 1 by Israeli sniper fire as she ran in her white…

– by Khalid Myshkin and Kathy Shapiro, Vermonters for Justice in Palestine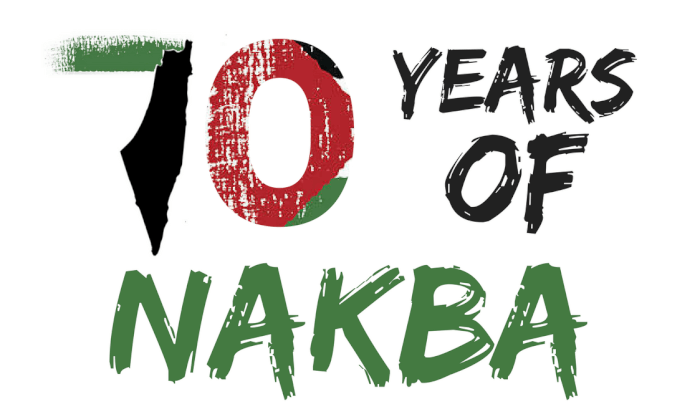 Reflections on the Palestinian Nakba: Year 70
May 15, 2018
There are more than 7 million Palestinian refugees worldwide, and greater than half remain de jure stateless. It wasn't until college that I learned why….

– By Mark Hage from Vermonters for Justice in Palestine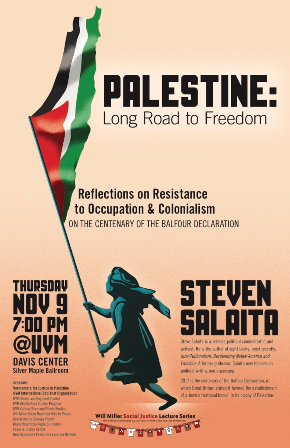 The Ghost of Lord Balfour: Palestine on the 100th Anniversary of the Balfour Declaration
October 30, 2017
On November 2, 1917, the British government made a public statement via the U.K. Foreign Secretary Arthur Balfour to Lord Rothschild, a prominent leader of the British Jewish community, concerning the establishment of a "national home" for the Jewish people…

– By Mark Hage, Vermonters for Justice in Palestine
Ellen and Tarak: Veterans for Peace in Palestine
September 18, 2017
Ellen Davidson and I are both active members of Veterans for Peace, and have organized two solidarity delegations to Occupied Palestine. The delegation's intent was to join with Palestinian nonviolent resistance and oppose, vocally and simply by their presence, the…

– by Tarak Kauff

Film Review – "The Billboard From Bethlehem"
March 22, 2017
2008, Directed by Bruce A. Barrett and Tom Jackson
66 minutes
The owner of an American billboard company engages Israeli soldiers and Palestinian resistance fighters (the Combatants for Peace) to form the backbone of interviews, historical footage, and stories of personal transformation. Together, they create a giant peace mural in the West Bank of Palestine. Featuring powerful music, poignant interviews with Israeli and Palestinian fighters, a brief history of the conflict, children having fun, and a vision for peace in the Holy Land, the film climaxes when 100 Israeli and Palestinian children paint a giant billboard that visits a mosque, a synagogue, and a church, before being posted on a busy American highway.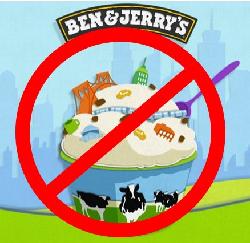 Peace, Love & Occupation: Why VTJP has Called for a Boycott of Ben & Jerry's
April 12, 2016
Vermonters for a Just Peace in Palestine/Israel began an urgent dialogue with Ben & Jerry's in 2011 over its franchise in Israel, which shares its name and social mission, and manufactures ice cream inside Israel. But that ice cream, we discovered,…
Mark Hage is an activist with Vermonters for a Just Peace in Palestine/Israel.