"Home" – An exhibit at the 2017 South Burlington (VT) ArtHop.

Paintings by Peter Schumann, Bread and Puppet Theater
Poetry by Mahmoud Darwish, National Poet of Palestine
Palestine 1948-2017:
Villages Destroyed
Homes Bulldozed
Millions Displaced
Thousands Killed
A Homeland Stolen
INSPIRED BY POEMS OF MAHMOUD DARWISH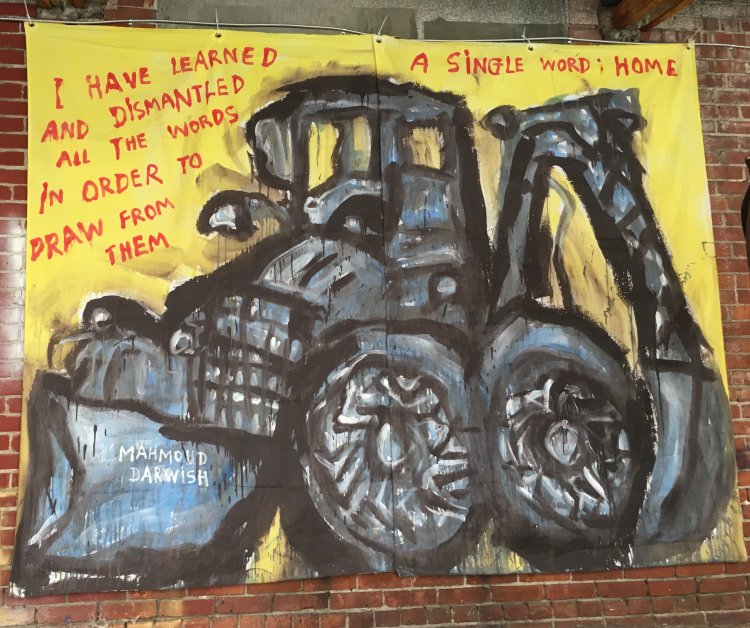 TWO-PANELED YELLOW PAINTING OF A TRACTOR USED TO DESTROY HOUSES

I have learned and dismantled
all the words in order to draw from them
A single word: home.
from "I belong there" from Fewer Roses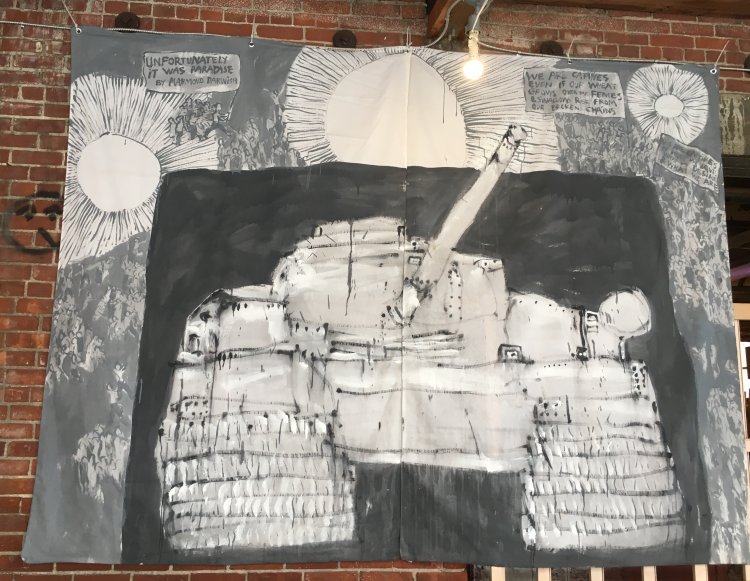 TWO-PANELED BLACK AND GRAY PAINTING OF A TANK

We are captives
even if our wheat grows over the fences
and swallows rise from our broken chains
We are captives of what we love, what we desire, and what we are
from "The Hoopoe" in Unfortunately, it was Paradise from I see what I want to see
Unfortunately, it was Paradise.
(no poem of this title found. It's been referred to by scholars as the title of the first collection which brought Darwish to English-speakers' attention. It may have no Arabic source as a phrase.)

ONE-PANELED BLACK AND GRAY PAINTING OF AN ARMED IDF SOLDIER

Where can I free myself of the homeland in my body?
from "The Last Train Has Stopped"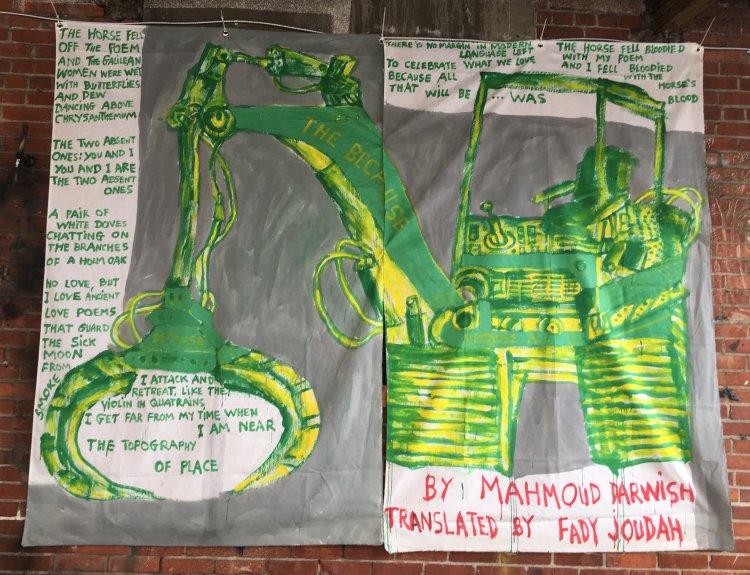 TWO-PANELED GREEN PAINTING OF A TRACTOR USED TO DESTROY
HOUSES
"The Horse Fell Off the Poem" BY MAHMOUD DARWISH – TRANSLATED BY FADY JOUDAH
The horse fell off the poem
and the Galilean women were wet
with butterflies and dew,
dancing above chrysanthemum

The two absent ones: you and I
you and I are the two absent ones

A pair of white doves
chatting on the branches of a holm oak

No love, but I love ancient
love poems that guard
the sick moon from smoke

I attack and retreat, like the violin in quatrains
I get far from my time when I am near
the topography of place …

There is no margin in modern language left
to celebrate what we love,
because all that will be … was

The horse fell bloodied
with my poem
and I fell bloodied
with the horse's blood ...


All panels are 55 inches x 7 feet, thin cloth, thin housepaint
Sponsored by Vermonters for Justice in Palestine.