Sponsored Art Projects
NAJAWA – A Story of Palestine
VTJP has been proud to sponsor a 'Street Comic' by Michelle Sayles in collaboration with Jen Berger. The artwork consists of a series of illustrated and annotated panels that were installed on the side of a building that houses an artists' cooperative on Pine Street in Burlington, VT. Subsequently it was displayed at the Fletcher Free Library in Burlington.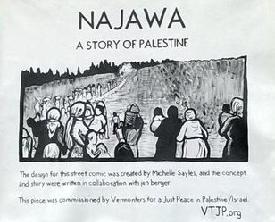 The Art Hop – weekend of September 11-13, 2015 – included this powerful 'comic strip' installation. A series of nine panels tells one woman's story of military occupation and oppression over 8 decades. The Ben & Jerry's 'free' ice cream truck was located across the street from the 'comic strip' art installation. Many people were visibly moved by the art installation and the story it tells.
The South End Art Hop attracts over 30,000 visitors to artists' studios and local businesses that become exhibition spaces.
Video of Artwork with Artist's Naration
This project is available for loan.
If you have a suitable venue to display the 9 panels (each 60 inches wide by 48 inches high) please contact the coordinating artist (
Michelle Sales
) or
VTJP
.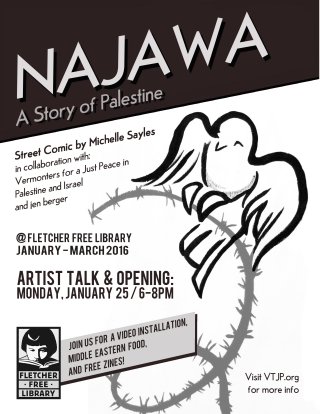 Video of Installation
'Street Comic' exhibit at Fletcher Free Library, Burlington, VT.
The work was displayed above the main area of the library from January to March 2016. The Opening was on January 25th, attended by an enthusiastic crowd that gave a standing ovation to the Artist's talk in which she explained her motivation and extensive research for the project.

Other Showings:
– Bread and Puppet Theater Museum (Glover, VT) July 2016
– Richmond (VT) Free library February 2017.