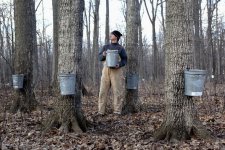 Our sap buckets are getting low.
Please fill them with a generous donation.
VTJP needs your financial support.
Please DONATE toVermonters for Justice in Palestine
(Tax-deductible, via Peace & Justice Center)

Anti-Occupation & Anti-Racism Activism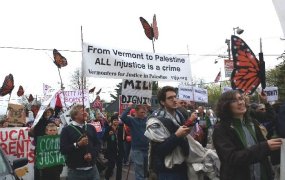 BDS Organizing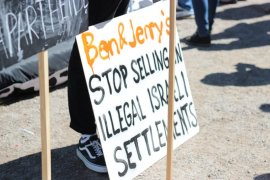 VTJP continued to lead an international effort to end Ben & Jerry's commercial complicity with Israel's occupation. In April, on Free Cone Day hundreds of people sent emails to Ben & Jerry's about sales of their ice cream in illegal Jewish-only settlements in occupied Palestine.
Our allies in Finland challenged Ben & Jerry's at the World Village Festival.
VTJP sent letters in April and May to corporate executives at Unilever, Ben & Jerry's parent company in the Netherlands, calling on them to put an end to their Israeli subsidiary's business in occupied Palestine.
A letter with supporting documentation was sent by VTJP to the United Nations Human Rights Council asking that Ben & Jerry's name be added to its database of companies doing business in occupied Palestine.

Community Awareness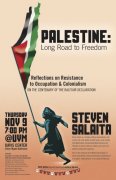 VTJP wrote several articles published in the Peace and Justice Center newsletter and blog.
We collaborated again with Peter Schumann (founder of Bread & Puppet Theater) at the South Burlington Art Hop.
We organized a six-week long Palestine and Israel Film Series in Montpelier – the room was packed!
We supported our friends in Brattleboro when they published a full-page ad in the Burlington Free Press thanking Bernie Sanders for speaking out about Gaza.
We worked with a national organization to document that Ben & Jerry's Ice Cream is still sold in illegal settlements.
In November 2017, we organized a series of actions under the heading "The Ghost of Lord Balfour" to recognize the 100th Anniversary of the Balfour Declaration, and co-sponsored Steven Salaita's lecture at UVM on Palestine: Long Road to Freedom – Reflections on Resistance to Occupation & Colonialism on the Centenary of the Balfour Declaration.
Please DONATE toVermonters for Justice in Palestine
(Tax-deductible, via Peace & Justice Center)