Imperialism and Colonialism:
The Hundred Years' War on Palestine
with Professor Rashid Khalidi
Vermonters for Justice in Palestine and Jewish Voice for Peace (Vermont-New Hampshire) welcome you to join this talk and discussion.
Date: April 19th, 2021; Time: 6:00 – 7:30 EDT
Register via Zoom for the talk and discussion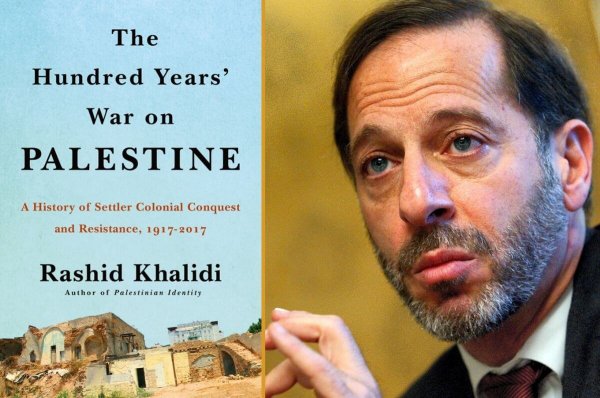 Professor Khalidi will discuss the history of British and American initiatives to transform Palestine into a Jewish State and his most recent book, The Hundred Years' War on Palestine: A History of Settler Colonialism and Resistance, 1917- 2017 (2020).

According to Professor Khalidi, most of what most Americans think they know about Palestine is wrong. Many of the images that Americans have of Palestine are derived from the Bible or from fictional sources such as the film 'Exodus'. The Bible is a document set down millennia ago, and large parts of it have only a tenuous relation to historically provable fact. It would be an understatement to say that most existing portrayals of Palestine in the American general culture do not reflect the Palestinian perspective.
Rashid Khalidi is the Edward Said Professor of Modern Arab Studies at Columbia University, the author of many books, and an esteemed scholar and activist. He was President of the Middle East Studies Association, and an advisor to the Palestinian delegation to the Madrid and Washington Arab-Israeli peace negotiations from October 1991 until June 1993.
He will speak for 35 minutes, with the remaining time open for discussion and questions. You may send questions for discussion in advance to:
vtjp@vtjp.org
or enter them into the live chat during the discussion.
The discussion will be moderated by Chris Helali.
Register via Zoom for the talk and discussion

Sponsored by Vermonters for Justice in Palestine

and Jewish Voice for Peace VT-NH