Ben & Jerry's: Stop selling Ice Cream in Illegal Israeli Settlements!
---

Free Cone Day 2016 Report
Boulder, CO: The Colorado Daily reported that "The Middle East Collective of the Rocky Mountain Peace & Justice Center will be protesting Ben & Jerry's on the Pearl Street Mall in Boulder on its Free Cone Day on Tuesday from noon to 4 p.m."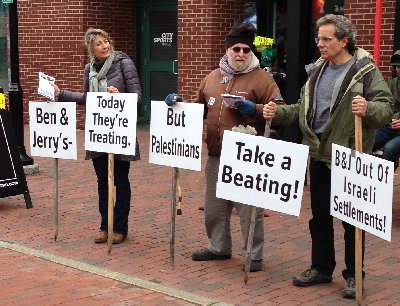 Burlington, VT (Vermonters for Justice in Palestine): Free cone day 2016 went well. It was cold and rainy in the morning at the Ben & Jerry's headquarters, but many employees took a leaflet, and the weather cleared up by noon at the University of Vermont and the downtown Burlington 'flagship' scoop shop where we experimented with Burma Shave signs. But it was cold and the lines were shorter than usual. Many people accepted our leaflets and agreed with our talking points. Many thought that Ben & Jerry's should know better and wished they would listen to Senator Sanders on the question of Palestine and Israel. Some were expecting us to be there. As usual, the best part of the day was engaging with people about the occupation and settlements, and the need to support the BDS movement. We ran out of leaflets sooner than usual. We feel that our campaign is going in the right direction - it's reaching people concerned about human rights and it's having an impact.

Chapel Hill, NC: the Salaam Shalom Support Group of the Church of Reconciliation PC(USA) again distributed the Ben & Jerry's Free Cone day flyers at the Ben & Jerry's on Franklin St. but seriously handicapped by heavy rain . Also, the group's attention was divided because the same day Chapel Hill Mayor & Council were visited by four Knesset members as a part of an International Visitor Leadership program sponsored by the US State Department. These Knesset visitors were met with difficult questions and protests, as reported by the www.ChapelHillNews.com story "Critics challenge Israeli Delegation", and the Raleigh News & Observer www.NewsObserver.com story "Israeli Delegates get Passionate Response."

Cleveland, OH, Jewish Voice for Peace: Eleanor reports that four members from the Cleveland JVP chapter distributed 150 leaflets, however not without incident. First the store people told us to stand back (not too far, no problem). Then the police showed up, and the policeman said he'd heard there was going to be a very aggressive demonstration but (and we were 2 at the time) the two of us women over 70 didn't seem too aggressive to him. He told us what was private property and what was not. A couple hours later another person showed up (police with badge, but no name) who did ID himself, telling us that we were not allowed to be anywhere at all close to the store, that it was all private property and handing out what he called the law about same (not yet sure it is....). As we had already passed out all our leaflets; it was 3 p.m. There was no line at that time anyway. We were harassed by a number of people, one group of 3 women seemed to be doing so to keep us from distributing the remaining leaflets and they were very aggressive. Another man tried to block us. Not pleasant in the least..... This is not Burlington!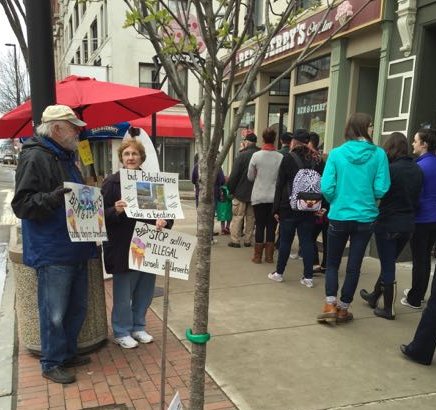 Manchester, NH: Carolyn, Dave and Will were at the scoop shop leafleting and vigiling and speaking with "Free Cone" people. They report "Most people had no idea of what was going on in the occupied West Bank and knew little about the illegal settlements. We passed out almost 70 of the flyers, and some people said they would e-mail Mr. Solheim. One woman refused to take one and said, "why should I, I'm a Zionist!" Well, I did not argue with her but I did mention that Judaism emphasizes the principle of "justice" in its religious teachings. She walked away! All in all, I'd say it was a successful event."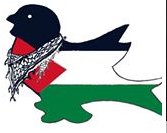 Montréal, Québec: McGill Students in Solidarity for Palestinian Human Rights reports that finals season was here so all a bit busy. "We managed to flyer quite a lot, although the weather wasn't great. A few people left the line after reading the flyer, some said 'thank you for doing this' but stayed in line, we also got the usual eyerolls and 'shame on you' sometimes. Overall it was good, we have some leftover flyers which plan to keep for next year."

Sacramento, CA: Sacramento activists held signs and leafleted outside a local Safeway asking customers to not buy Ben & Jerry's ice cream. There's no Ben & Jerry's shop in Sacramento, so they focused efforts on educating the public on Ben & Jerry's complicity in the Israeli occupation of Palestine and asked Safeway customers not to buy the ice cream.

San Jose, CA (Justice for Palestinians): Donna reports "five people (3 from previous years, and two new volunteers) distributed close to 1,000 leaflets. Initially the weather was cold and the first few hours the line wasn't as long as in previous years, but around 2:30pm the line grew long and stayed that way almost until 7:30pm.
A few people stepped out of line after reading the leaflet. I was saying to people "Information about Ben & Jerry's", some people began reading and then gave it back. Very few people threw their leaflets on the ground. It seemed that there was less interest than previous years, though some people asked me questions. Two students from San Jose State University SJP came by to explain they were in the middle of mid-term exams. All in all, I think it was a positive day."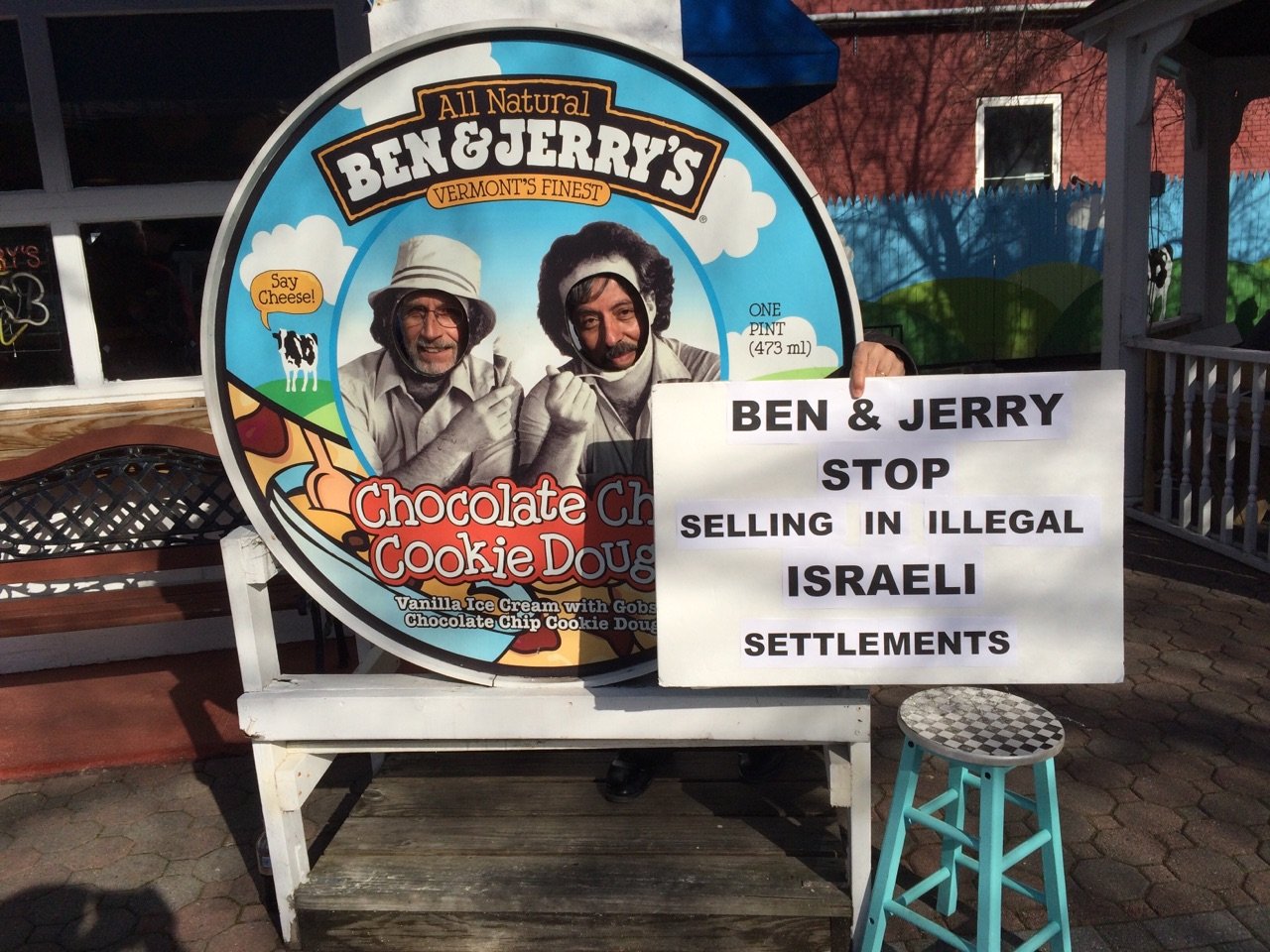 Saratoga Springs, NY: The Palestine Rights Committee, based in Albany, NY distributed leaflets at the Ben & Jerry's in Saratoga. The weather was chilly, so there was a not a huge crowd. They reported "surprisingly, quite a few people were not interested, compared with Albany two years ago, though on the other side, we got not a single hostile reaction, also in contrast with Albany. The manager was friendly, offered us a drink or an ice cream cone, we assured him this was nothing against him. He was obviously aware of the situation." The next day the group distributed more leaflets at the College of St. Rose, Albany, which hosted a concert at which Ben & Jerry's ice cream was served.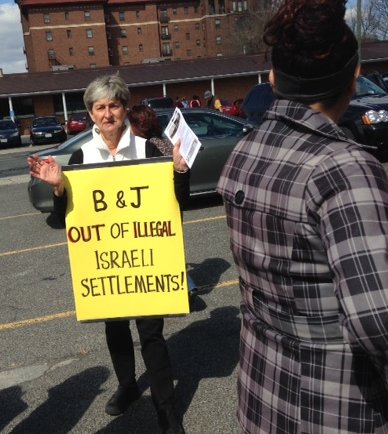 South Berkshire, Western MA: Three of us from the group Cafe Palestina gave out flyers and spoke to approximately 300 people about what the company of Ben & Jerry's is doing in the settlements of the West Bank. We asked people to contact the CEO of Ben & Jerry's asking him to get out of the settlements and to not ordinarily buy the B & J ice cream. This made the majority of people on line aware of the situation.
We were also happy to find out that Israel/Palestine is part of the curriculum at one of the local middle schools and high school.
It was a successful event.
---
For the Campaign Website and latest news, Click here