Vermonters for a Just Peace
in Palestine/Israel
www.vtjp.org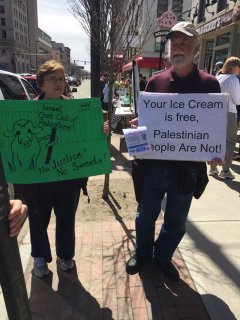 For the third consecutive year
people in line at Ben & Jerry's "Free Cone Day"
received leaflets, information, and even a show
— this year in 19 locations in 7 different states.
---
Free Cone Day Leafleting Reports - 2015

CA (Jack London Square and Center Street, Berkeley) Susan (Bay Area Jewish Voice for Peace) reported:
The line here was not a third as long as the one you had at Center Street in Berkeley. The Franchisee had invited (as she did last year) about 10+/- volunteers from MISSSEY www.misssey.org Motivating, Inspiring, Supporting & Serving Sexually Exploited Youth to leaflet people in line, and together with the staff handing out menus to the people in line who were attempting to decide their flavor, the MISSSEY volunteers it seemed much more difficult this year than in the past to engage with people.
When one of the Franchisee's staff came out and told us that the Owner wanted us to leave or she would call Security, we (Judith and I) talked it over and told them to call Security. Since we were not soliciting money, picketing or "boycotting" her shop, we felt we had every right to be there. I did call and spoke with Ellen about this. Security came and he called his bosses who came over and learned that we were not doing anything to hurt the business of his "tenant", so we knew we were free to resume our work.
By then we had "lost our steam", so left around 1:30 and I brought our remaining flyers over to Center Street where I was greeted by Marge. I had forgotten how long the line near campus got, even after "lunch time".

CA (Berkeley) Marge & Cindy reported:
Here are some comments from our folks in SF Bay Area who leafleted: Marge and I leafleted at the Berkeley store from 1:30 PM until a little after 3 PM. We also had a very positive experience. We spoke to people up and down the line and while some people did not take the leaflet, many did.
There was a genuine interest among some of the people. Many people really did not understand the situation while others did. There was only a few people who responded negatively specific to the issue of the occupation.

CA (San Francisco) Steve reported:
I just had the greatest time leafleting at Ben & Jerry's! I was determined to engage, not just hand out pieces of paper, and I had nice, short but sweet encounters. Most of the people I talked to were genuinely interested and concerned. I don't know if tomorrow they're going to besiege Ben & Jerry's to divest, but there are now a couple of dozen more people ready to respond favorably to reasonable critiques and protests of current Israeli policy on the West Bank.
I was going to go up to the store manager too, but to tell you the truth, I couldn't quite figure out what to say to him, and he was busy directing traffic.

CA (San Francisco) Martha reported:
We did some good leafleting at Haight St. Ben & Jerry for about 2 1/2 hours. Most people were really receptive. Some people knew the situation. It was new to many of the younger people.
There were a few people who were really conflicted. I wish I had a flyer for JVP to give to them.

CA (San Jose) Donna reported:
We started at 12:00pm and distributed all the 1,000 leaflets we printed - we finished at around 3:30pm. This year I couldn't afford to print out more leaflets. The line in downtown San Jose is usually long. Again this year, most people were receptive to the leaflet, some people who at first refused, later asked for it while they were standing in the long line waiting to get in. There were some people who threw the leaflets on the ground. One woman grabbed the leaflet from her friend's hand as soon as he received it and she ripped it up. Some people, maybe four or five, upon reading the leaflet - the call for boycott - left the line and went elsewhere! That was awesome! We had only 5 volunteers this year, fewer than last year. I didn't try to go into the store to leaflet the manager or workers inside. They were way too busy. I need to go on a different day and give them the leaflet.
Thank you for the awesome leaflet.

CA (Greenbrae) Barbara reported:
Members of 14 Friends of Palestine, Marin gave out 500 fliers to customers of Ben and Jerry's in Greenbrae, California, on Tuesday April 14. Activists took 1.5 hour shifts from noon until 8pm, working in twos or threes. Here is a summary report:
"Impressions, experiences, etc.: Generally positive. Most folks at least took a flier; a few refused. It's hard to convince folks not to get free ice cream, though one woman actually listened to our pitch and said OK, she wouldn't go in, and turned around and walked away. Had good, long conversations with more half a dozen folks. Mostly people were clueless though generally receptive and interested in knowing more. We've got a lot of educating to do. We had a very long conversation with the manager, a nice guy who was quite sympathetic. I gave him the letter I had printed out for franchise owners and asked him to send a letter to Ben and Jerry's management. He said he would. I also spoke with and distributed fliers to a couple adjacent businesses in the mall. They were receptive.
It's great in these situations to be Jewish. One guy I approached asked me what I expected since Ben and Jerry were both Jewish. It disarmed him when I said "So am I." He then told me he was Jewish and we had a good conversation."

CO (Fort Collins) Cheryl reported:
We did not call for a boycott, but used the event as an educational/awareness awareness raising opportunity. I've attached our modified flyer and petition. We obtained 80+ signatures, and we'll deliver them to [the franchise owner] when we meet with him.

MA (Boston - 2 locations) Marty reported:
We had a few people distributing leaflets at two separate "Scoop Shops" downtown Boston (including the shop in the building that houses the Consul General of Israel's office!). We gave out around 300 or 400 leaflets over a combined few hours.

MA (Pittsfield) Amy reported:
Two members of Cafe Palestina in the Southern Berkshires gave out 95 leaflets at the Ben & Jerry's store in Pittsfield, MA and spoke to over 100 people about Ben and Jerry's contribution to Palestinian oppression by setting up of factories and selling their ice cream in the Israeli settlements on Palestinian land. Many of the people in line were high school and college students who were totally unaware of the situation. There were some people who stated they would email and/or write to the CEO to stop these illegal practices. We met with limited resistance and some positive feedback.

MD (Silver Spring) Jenn reported:
It was raining very heavily, and quite cold, but other than that it went really well. I had about 160 leaflets printed out which I gave out and had some great conversations with people, many don't know what's going on in Palestine so it was wonderful to be able to inform people. I had a few people skip the line and a few say they aren't going to buy Ben & Jerry's from now on. Over-all, despite most people just wanting the free ice-cream, there was a good amount of support(in a somewhat conservative Jewish part area too) and besides the security guards being mean and making me stand in the rain, it went really well. Thank you for organizing this event, I hope to be able to do more in the future, and be a bit more prepared next time.

NC (Chapel Hill, NC) Wes reported:
The Salaam Shalom Support Group of the Church of Reconciliation PC(USA) was very pleased to pass out the 500 flyers to a "Free cone Day @ the Chapel Hill NC Ben & Jerry's for our second year. The weather was dreary but our group of four was not and the crowd was receptive. This University of North Carolina community has a variety of active educational and pro Palestine groups and our Salaam group in our church is inspired & challenged to develop a more active approach on this downtown Ben & Jerry's location next year and produce more "media" presence. We did not encounter any resistance from the "Cone " crowd and even were able to engage in discussions on this issue with the waiting folk. Thanks to you and VTJP for your flyers, energy and this continuing challenge for justice against the Israeli oppression.

NH (Manchester) Will (NH Palestine Education Network) reported:
Our numbers were small but we hope our impact was large! We passed out about 70 of the [VTJP] flyers and I also passed out about 10 of the flyers I had created. I'd say there were over a 160 people or more whom we encountered. Some of the more receptive folks were the young - students from a private high school - The Deerfield School, and college students from St. Anselm's, NHTI (NH Technical Institute), and The Massachusetts School of Pharmacy.
One guy called us "racists" which I thought was hilarious (but sad). A few saw our signs and asked for our leaflets. So, all in all, it was a successful event even though the local television station camera-person did not film us, she did take a flyer. Let us know how other events went! Much praise and admiration for your organizations's stellar efforts to inform Americans about B & J's failure to adhere to its social mission.
PS: Spoke briefly to Ben Cohen about the selling of ice cream in illegal settlements - his response to my question of "do you have any pull with the new ceo" was "no." However, we know that he could speak out publicly but has chosen not to do so -- at this point. Keep up the pressure on both.
(Will also sent photos of people leafleting and holding signs including 'Your Ice Cream is Free - Palestinian people are not' and 'No Justice - No Sweets')

VT (Burlington, Church Street) Mark, Wafic and Sue reported:
Hundreds of leaflets were distributed on Church Street, at Ben & Jerry's flagship scoop shop, over the course of five hours. Eight volunteers from the Occupy movement from Central Vermont joined members of VTJP to leaflet and noted 'We had all sorts of responses from people actually leaving the line to people yelling at us, and everything in between'. There were also several performances of the VTJP cantastoria, which was videotaped [YouTube video coming soon!]. As in previous years, there were many interesting conversations. Some folks, upon learning that VTJP was calling for a boycott of the company, got out of line and left.

VT (South Burlington - B & J Corporate Headquarters) Ian reported:
Leaflets given to arriving employees between 7:30 and 9:00 am (though many declined). Gave leaflets to CEO Jostein Solheim and Global Director of Social Mission, Rob Michalek, and had a brief exchange with both of them, something like this:
Me: Mr Solheim, you asked last year whether the leaflet was the same as the previous year - this year we have a new one. (He accepted it.)
Jostein Solheim: We are very disappointed ...
Me: Yes, we are disappointed too...
Rob Michalek: Some of your facts are wrong
Me: Please let us know of any errors and we'll do our best to fix them.
Rob Michalek: You should know that [Ben & Jerry's] never made a penny from the Israeli franchise.
Me: Well, that's very troubling - what is the motivation for [the company] to have a franchise in Israel/Palestine if not for commercial reasons?
Rob Michalek: Well, it was the first franchise...
Also, I had printed 180 emails addressed to Mr Solheim via the VTJP website and I handed them to him.

VT (Burlington - University of Vermont) Mark reported:
The line was huge. Leaflets were handed out to several hundred folk from noon onwards, and performances of the VTJP cantastoria were offered as well [YouTube video coming soon!]. The cantastoria attracted a lot of attention, and there were some good conversations with the folks in line.

VT (Waterbury - Ben & Jerry's factory) Ian reported:
About 25 leaflets given to arriving people, before (foolishly) we were spotted by management and asked to leave, but did explain the campaign and gave a leaflet to the company person.
---
---

For the Campaign Website, Click here For Campaign News, Click here
email comments to Vermonters for a Just Peace in Palestine/Israel BDS Committee